General
We would be happy to hear from you! Let us know what you think!
Our Email address: info@aethyx.eu
Or just use the following form to contact us:
Legal Notices
[English Version]
§1
The information contained in this website is for general information purposes only. The information is provided by AETHYX MEDIAE and while we endeavour to keep the information up to date and correct, we make no representations or warranties of any kind, express or implied, about the completeness, accuracy, reliability, suitability or availability with respect to the website or the information, products, services, or related graphics contained on the website for any purpose. Any reliance you place on such information is therefore strictly at your own risk.
In no event will we be liable for any loss or damage including without limitation, indirect or consequential loss or damage, or any loss or damage whatsoever arising from loss of data or profits arising out of, or in connection with, the use of this website.
Through this website you are able to link to other websites which are not under the control of AETHYX MEDIAE. We have no control over the nature, content and availability of those sites. The inclusion of any links does not necessarily imply a recommendation or endorse the views expressed within them.
Every effort is made to keep the website up and running smoothly. However, AETHYX MEDIAE takes no responsibility for, and will not be liable for, the website being temporarily unavailable due to technical issues beyond our control.
§2a
Cookies
We use cookies for the following services on our websites: Piwik (free website analytics) & Google Adsense/Adshot (advertisement). In using our websites you accept letting us use these.
§2b
Optional opt-out (possible as of May 25th, 2018 through GDPR)
[Version francaise]
§1
Les informations contenues dans ce site sont à titre informatif seulement. L'information est fournie par AETHYX MEDIAE et pendant que nous nous efforçons de garder les informations à jour et correctes, nous ne faisons aucune représentation ou garantie d'aucune sorte, expresse ou implicite, sur l'exhaustivité, l'exactitude, la fiabilité, la pertinence ou la disponibilité en ce qui concerne site Web ou les informations, produits, services ou graphiques connexes contenus sur le site Web à quelque fin que ce soit. Toute confiance que vous accordez à ces informations est donc strictement à vos risques et périls.
En aucun cas, nous serons responsables de toute perte ou dommage, y compris sans limitation, perte ou dommage indirect ou consécutif, ou de toute perte ou dommage résultant de la perte de données ou des bénéfices découlant de, ou en relation avec, l'utilisation de ce site .
Grâce à ce site Web, vous pouvez accéder à d'autres sites Web qui ne sont pas sous le contrôle d'AETHYX MEDIAE. Nous n'avons aucun contrôle sur la nature, le contenu et la disponibilité de ces sites. L'inclusion de tout lien n'implique pas nécessairement une recommandation ou ne souscrit pas aux opinions exprimées en leur sein.
Tous les efforts sont faits pour que le site fonctionne bien. Cependant, AETHYX MEDIAE n'assume aucune responsabilité et ne sera pas responsable du fait que le site soit temporairement indisponible en raison de problèmes techniques indépendants de notre volonté.
§2a
Cookies
Nous utilisons des cookies pour les services suivants sur nos sites Web: Piwik (analyse de site Web gratuit) & amp; Google Adsense / Adshot (publicité). En utilisant nos sites Web, vous acceptez de les utiliser.
§2b
Option facultative (possible à partir du 25 mai 2018 via GDPR)
[German Version]
§1)
Laut "Impressumspflicht des Telemediengesetzes" inhaltlich Verantwortlich (gilt für aethyx.eu, yaaby.eu, zockerseele.com, gizmeo.eu, cipha.net, jpcars.de & saschaschroeder.eu, href.ninja, kryptowiki.eu):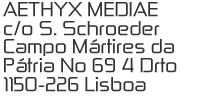 E-Mail: sascha.schroeder@aethyx.eu
PGP-Key: 0xE095047F
Ich widerspreche ausdrücklich der Nutzung und/oder Übermittlung meiner hier genannten Kontaktdaten für kommerzielle Zwecke oder für die Markt- bzw. Meinungsforschung (§28 Abs.4 BDSG).
§2a)
Cookies & Datenschutz
Unsere Websites verwenden Cookies für die folgenden Webdienste: Piwik (kostenlose Website-Analytik) & Google Adsense sowie Adshot (Werbung). Mit der Nutzung unserer Websites stimmst du ebenso der Nutzung dieser Cookies zu.
§2b)
Optionales Opt-out (möglich seit 25.05.18 durch DSGVO)