Hello dear readers & customers,
today, we want to introduce to you our one and only "social media expert" Rae McCoy: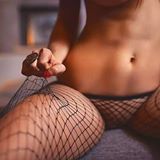 Rae is so far our only expert for anything Q&A related for our deluxe premium adult toy store, 53x.toys.
If there is anything open about our toys there, you want to get a Nornenrad tarot sent to your Email mailbox (75€), or just want to chat for a while, don't hesitate to contact her!
She's to this day still unmarried, doesn't want kids, is bisexual and Scorpio too.
Have fun & respect her, please, she has a very tough job on Facebook & Twitter.
Have a nice day and happy masturbating,
the aethyx staff